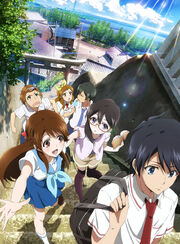 Glasslip (グラスリップ, Gurasurippu?) is an original Japanese anime series set to be released in Summer 2014. Produced by P.A. Works, it is scheduled to air from July 2014. The anime follows the story of a girl named Tohko Fukami who dreams of becoming a glass artisan.
The story follows six high school students who meet during the summer. The protagonist is Tohko Fukami, a 17-year-old born in Fukui Prefecture. Her dream is to become a glass artisan.
I won't forget the summer we met. The place was a little town tucked in between the ocean and the mountains. There, they met a transfer student. The sun is so dazzling, and the fireworks are so fleeting. A story that starts in summer that six high school students experience.
Main article: List of Glasslip Episodes
The TV anime series Glasslip is produced by P.A.Works, Infinite, and Lantis under the glasslip project. The anime is set to begin airing on July 2014 on TOKYO MX, Sun TV, KBS Kyoto, AT-X, and other networks.
The music of the anime series will be scored by Akito Matsuda under the recording label Lantis. Under the same label, ChouCho will perform the opening theme "The Summer Day and Your Voice" (夏の日と君の声, "The Summer Day and Your Voice"?), while nano.RIPE will perform the ending theme "World of Transparency" (透明な世界, "World of Transparency"?).
Ad blocker interference detected!
Wikia is a free-to-use site that makes money from advertising. We have a modified experience for viewers using ad blockers

Wikia is not accessible if you've made further modifications. Remove the custom ad blocker rule(s) and the page will load as expected.